Vegetarian Quesadillas Recipe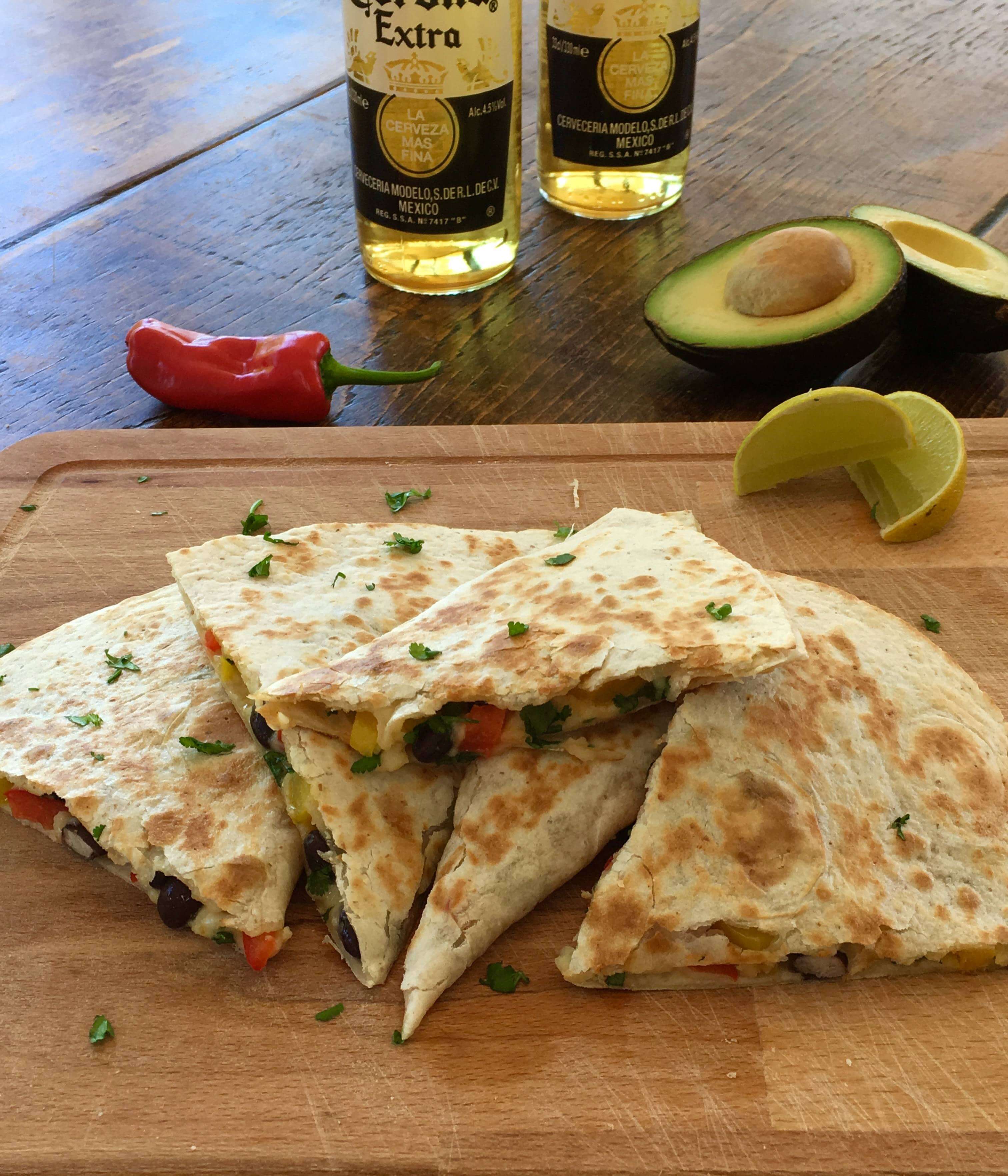 This is such a useful quesadillas recipe to have in your arsenal. It makes an awesome, quick and filling dish - great when you want an easy meal after a busy day at work, and it can quickly be multiplied up if you are feeding a crowd. 
These delicious cheesy quesadillas are best served with sour cream and avocado salad or your choice of guacamole and make sure you have ice cold Mexican beer with lime to wash it down with!
There are alternative fillings that you could use to mix up this quesadillas recipe - add cooked chicken or ham to make it a meat eaters dish, other crunchy vegetables such as sweet corn or spring onions and of course, try changing the cheese, for example to Gruyere or red Leicester. This makes it the perfect recipe to use up leftovers or to make with whatever you happen to have in the fridge. 
Serves 2
Preparation Time: 10 minutes
Cooking Time: 6 minutes
---
Ingredients For Quesadillas Recipe:
100 g (1 cup) Cheddar Cheese (choose a strong flavoured Cheddar)
1/2 Large Red Pepper
1/2 Large Yellow Peppers
Handful of Fresh Coriander (Cilantro)
4 Tablespoons Canned Black Beans
1 Chilli Pepper - Choose the spice level that you like best!
6 Flour Tortilla Wraps
To Serve:

150 ml (approx 1/2 cup) Sour Cream
Avocado Salad (click here for recipe) or Guacamole of your choice
---
Equipment Needed:
Large Mixing Bowl
2 Chopping Boards and a Sharp Knife
Cheese Grater
Can Opener
Colander
Frying Pan - large enough to fit the tortilla wrap in completely flat - must be non stick
Large Heat Proof Spatula 
Pizza Wheel or Large Sharp Knife 
---
Method:
Grate the cheese into a large mixing bowl.
Remove the stalk and pith from the peppers and cut into small pieces (approx 1/2 cm squared), Finely slice the chilli pepper (leave the seeds in if you like it spicy) and add both to the bowl of cheese.
Finely chop the coriander (cilantro) and add to the bowl.
Drain the can of black beans and rinse well to remove any of the gloopy liquid. Measure out 4 tablespoons of beans and put these into the bowl. Mix it all well!
Place a single tortilla wrap on the work surface. Add 3 tablespoons of the mixture onto the wrap and spread so that it covers the wrap , but without touching the edges of the circle. Lay a second wrap on top so that it creates a sandwich.
Place the frying pan onto a high heat. Once warmed up, place the quesadilla into the pan, without any oil (using oil makes the quesadilla very greasy and isn't necessary if you have a non stick pan.) 
Fry the quesadilla for one minute, then carefully flip it over using the spatula - watch out that the filling doesn't spill out! If it does, scoop it up and quickly open the quesadilla and replace it. Fry for a further minute on the other side. It should go a light brown toast colour on the outside of the tortilla wrap and the cheese should melt, causing the quesadilla to be stuck together. 
Serve onto a fresh chopping board (not the one that you used to prepare the vegetables ) and cut into triangular wedges using a pizza wheel or a large sharp knife.
Repeat with the remaining wraps and mixture - either keep the first quesadilla warm until they are all cooked, or cook and eat one at a time. 
Serve Immediately with avocado salad on the side. They cool quickly and don't taste as delicious when they are cold!  Allow people to add their own sour cream according to personal taste.
Once you've made this quesadillas recipe you'll be guaranteed to come back to it time and again.