Vegetarian Tacos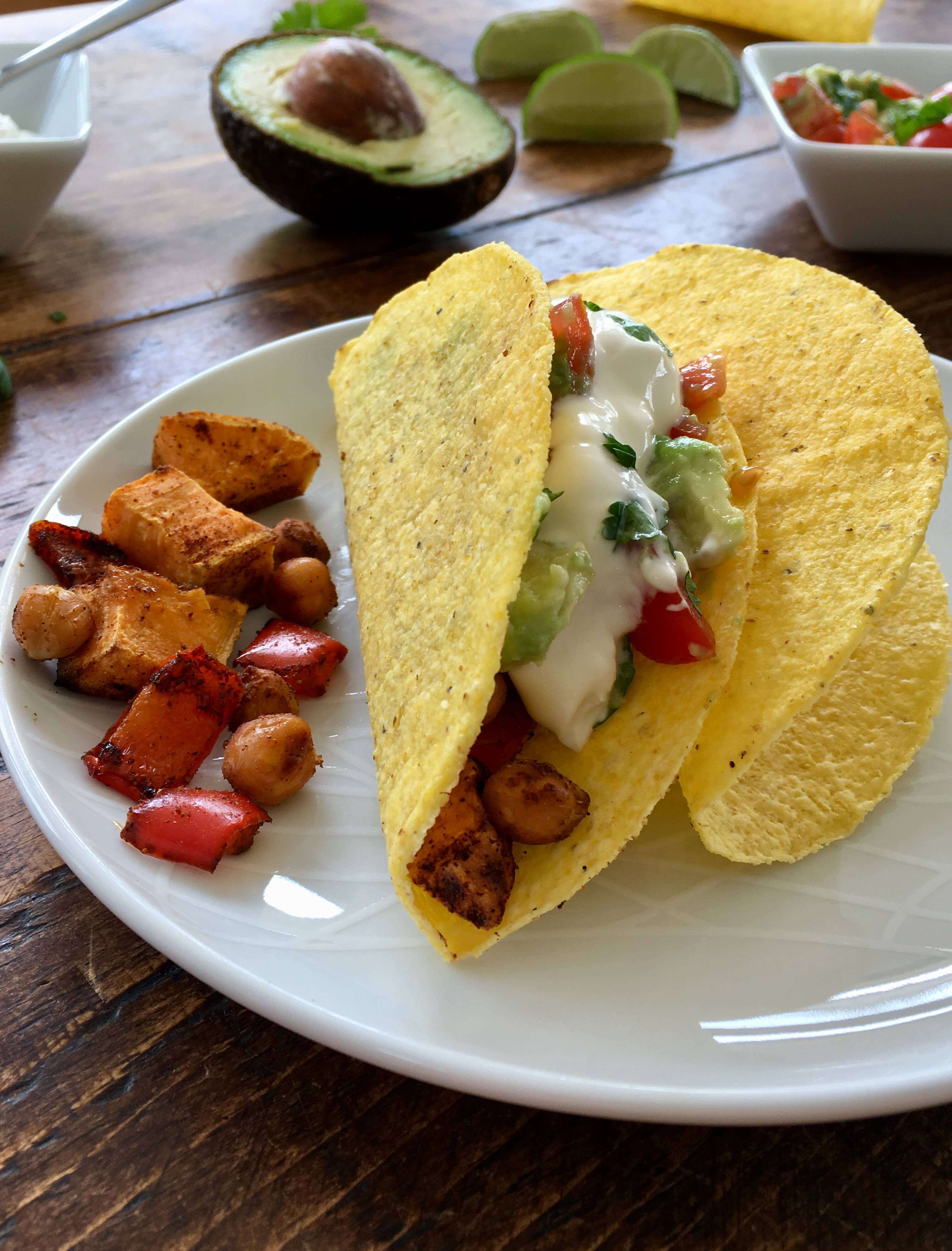 Both Meat and Vegetarian Tacos have always been popular. In fact, tacos have been eaten in Mexico since the 18th century, with their origins documented by the Smithsonian Museum. 
Traditionally tacos would be filled with a minced meat base (usually in some sort of spicy tomato sauce) and topped with cheddar cheese, crunchy lettuce and sour cream. This veggie recipe is far easier to prepare, far healthier, and dare we say....far tastier!
These Vegetarian Tacos are made up of 3 layers - At the base is a spicy mix of nutritious vitamin rich sweet potatoes and red peppers, baked with protein packed chick peas. Layered over this is a zingy avocado salad (recipe here). All this is topped with sour cream and garnished with fresh coriander (cilantro)

Serves: 3-4 (makes 12 tacos)
Preparation time: 10 minutes
Cooking time: 30 minutes

---
Ingredients for Vegetarian Tacos:
2 Medium Sweet Potatoes
1 Red Pepper
1/2 of a 400g (14oz) Can Chick Peas
1 Tablespoon Olive Oil

1 Teaspoon Cumin
1/2 Teaspoon Chilli Powder
1 Teaspoon Cayenne Pepper

12 Tacos Shells
300 ml (10 fl oz) Sour Cream
1 quantity Avocado Salad (click link for recipe)
Handful of Fresh Coriander (Cilantro) as optional garnish

---
Equipment Needed:
Oven proof Roasting Dish
Chopping Board and Sharp Knife
Colander
Can Opener
Measuring Spoons

---
Method:
Pre-heat the oven to 200 o C / 400 o F / Gas mark 6

Peel the sweet potatoes and chop into small chunks (approx. 2cm). Prepare the red pepper by removing the stalk, seeds and pith and then chop this also into 2cm chunks. Place both vegetables into an oven proof roasting dish.
Drain the chick peas and rinse well. Add to the roasting dish. Pour the Olive oil over it all and stir well to mix.
Carefully measure the spices and sprinkle over the vegetable / chick pea mix. Stir well then place the dish in the oven and roast for 30 minutes, or until the sweet potato is soft enough to pierce with a sharp knife.

Whilst this is cooking, prepare the avocado salad. Follow the recipe here
Roughly chop the fresh coriander (cilantro) and place to one side.

Once the vegetables are cooked, remove from the oven.  Construct your tacos by spooning approx. 2 tablespoons vegetable mix into the base of the taco shell. Top with approx. 2 tablespoons of avocado salad and 1 tablespoon of sour cream. Garnish with a sprinkle of chopped coriander (cilantro) and serve immediately.
These vegetarian tacos don't work well if made too far in advance as the crispy taco shells will start to go soggy. If possible, place all the toppings in bowls on the table and let everyone construct their own taco, eating one, then making the next so that they are enjoyed in their optimum state!