Three Bean Salad Recipe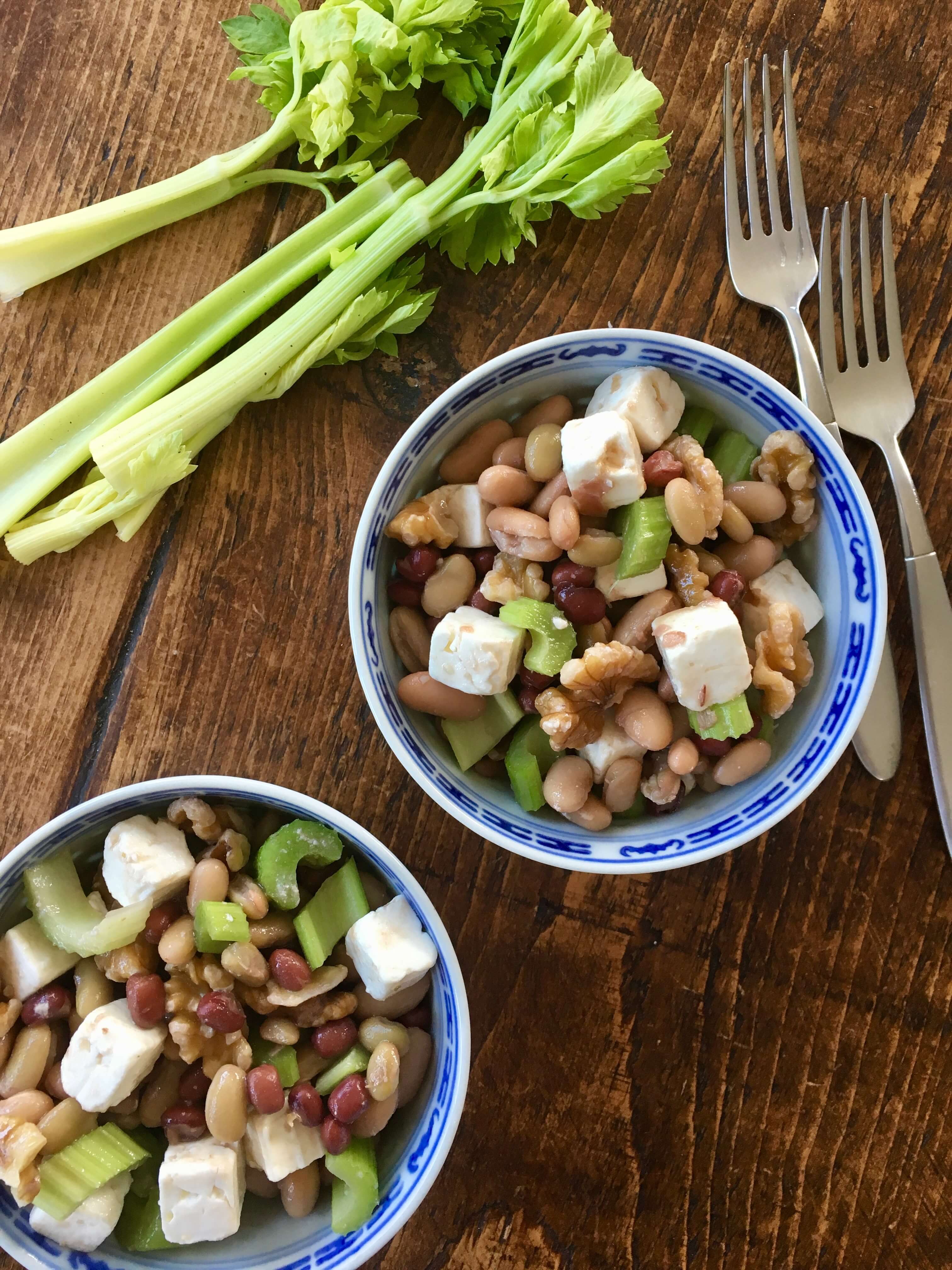 Pick your favourite pulses to use in this three bean salad recipe! We have chosen cannellini, flageolet and adzuki beans, but given that there are a huge variety of beans available (see a full list here) you can ring the changes with whatever you have in your store cupboard. For ease of preparation, the recipe suggests that you use a pre-mixed can of beans (often named as a bean salad) but this isn't essential - just make sure that your overall quantity stays the same as 1 can. 
Serves 4 as an appetiser or 2 large portions for a filling lunch
Preparation time: 10 minutes
Cooking time: 0 minutes (no cooking required)
---
Ingredients for Three Bean Salad Recipe:
400 g / 14 oz canned mixed beans in water (sometimes called "three bean salad" but make sure it only contains beans and that there is no dressing included)
3 sticks celery
90 g (3/4 cup) Feta Cheese cubed
50g (1/2 cup)  Walnut pieces
For the dressing:
1 teaspoon Balsamic Vinegar
1 teaspoon Olive Oil - Extra Virgin if possible
Pinch mixed dried herbs
1/4 teaspoon Garlic Puree
---
Equipment needed:
Chopping Board and Sharp Knife
Colander
Can Opener
Large Mixing Bowl and Spoon
Small glass jar or pot with a tight lid
---
Method:
Open and drain the canned beans. Rinse thoroughly under running water and leave to drain
Meanwhile, trim the top and bottom of the celery sticks and discard the leaves. Chop into 1 cm sized pieces and add to the mixing bowl.
If using a large block of feta cheese, cut into cubes approx 1.5 cm long. If using pre-prepared feta cubes, drain these on a piece of absorbent kitchen paper to make sure there is not too much moisture present. Place these in the bowl alongside the celery.
Break up any large pieces of walnuts and then add them to the bowl.  By now, the excess liquid should be gone from the beans, so add these to the bowl and give it all a really good stir to ensure it is completely mixed.   
Add the ingredients for the dressing to the jar and screw the lid on tightly. Give it a good shake to combine. Pour over the salad.
Serve in individual dishes for an appetiser or transfer to an attractive serving dish for a buffet selection of salads.
This three bean salad recipe will keep for up to 2 days in the fridge, although the feta cheese will discolour from the balsamic vinegar in the dressing (it will still taste fine).