Rice Salad Recipe

With Rainbow Fruit, Veg and Added Crunch!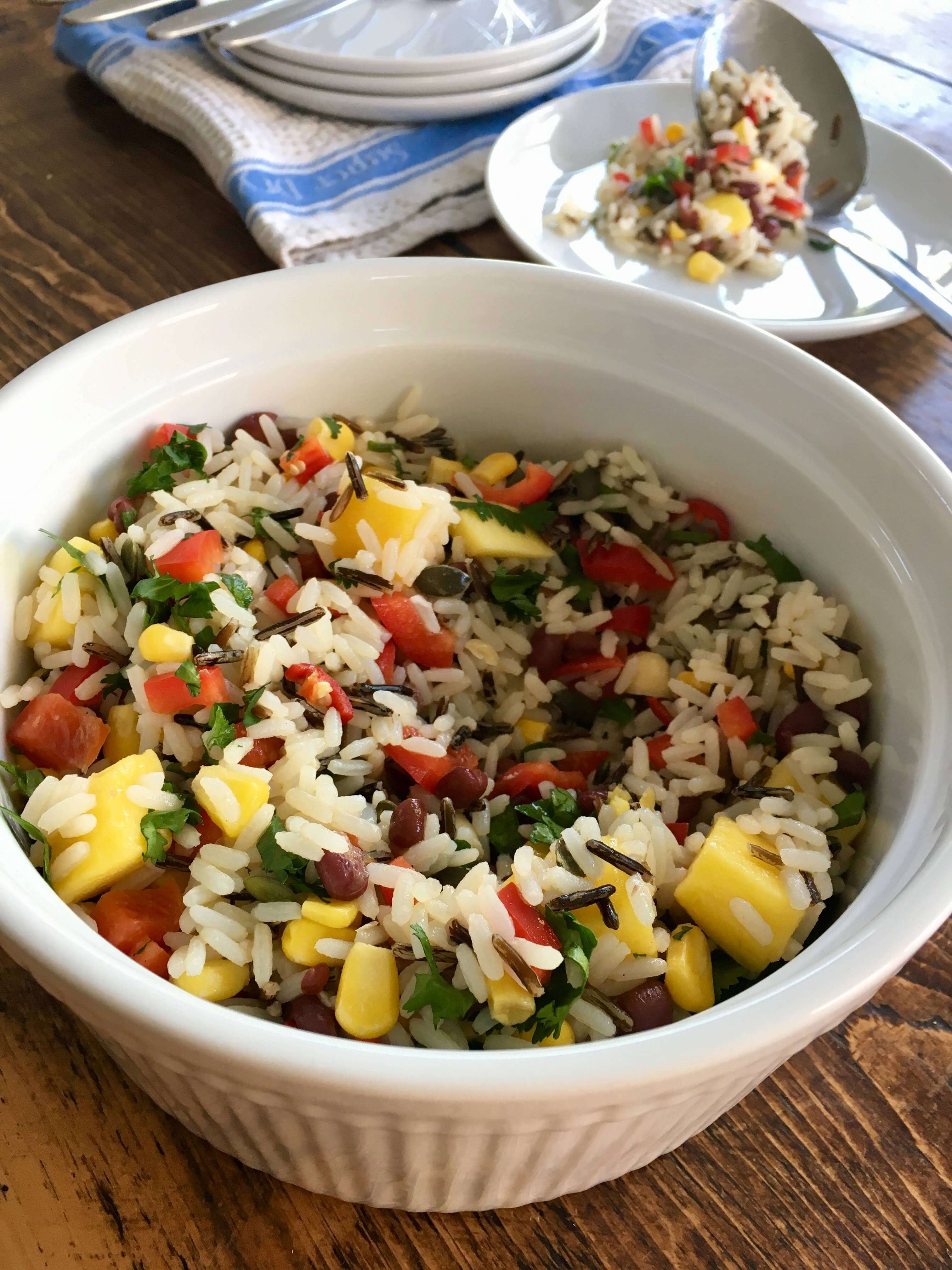 This is a great rice salad recipe to add to your repertoire. It has an abundance of variety of colour, ingredients, textures and flavours. The recipe is well balanced with vitamin rich fruit and vegetables, along with pulses, nuts and seeds for protein. However, any of these ingredients can be substituted for personal preference or according to what you have in your cupboard! If you decide to change parts of this rice salad recipe; try and make sure that you substitute within a similar group of foods (eg switch the almonds for cashew nuts, mangoes for juicy peaches, the red pepper for carrots or celery etc.) If possible stick with wild rice or at least another type of wholegrain rice as it really does bring more crunch and texture to the salad than if you used a simple white rice.  

As this rice salad recipe stands it is suitable for vegans. However, it could be adapted by adding optional chicken or halloumi for extra flavour and protein if desired.

Serves 4
Preparation Time: 15 minutes
Cooking Time: 15 minutes (or according to the packet instructions for rice)

---
Ingredients for Rice Salad Recipe:
150g (2/3rd cup) Wild Rice
80g (2/3rd cup) Frozen Mango - defrosted
80g (1/3rd cup) Frozen or Canned Sweetcorn - defrosted / drained (as appropriate)
1/2 Red Pepper
3 Tablespoons Aduki Beans (also known as Adzuki beans) - drained from their can.
25g (2 Tablespoons) Blanched Almonds
1 Tablespoon Pumpkin Seeds
1 Red Chilli
Large Handful of Fresh Coriander (Cilantro)
Optional - halloumi (fried) or cold cooked chicken

For the dressing:
3 Tablespoons Olive Oil (Try to get a good quality extra virgin olive oil if possible)
1 Lime
1/2 Orange
Salt and Pepper

---
Equipment Needed:
Large Mixing Bowl and Spoon.
Saucepan
Colander / Sieve
Chopping Board and Sharp Knife
Can Opener
Glass Jar or Pot with Tight Lid
Optional Citrus Juicer

---
Method:
Cook the rice according to the packet's instructions. Drain it and rinse well with cold water. This has a dual purpose - it immediately cools the rice so that it is ready to use and also rinses away any starch from the water which can otherwise leave the rice a little gloopy and sticky.
Add the rice to the bowl and toss in the defrosted mango, sweetcorn and aduki beans.

Chop the red pepper into small bite sized pieces and add them to the rice salad bowl.
Roughly chop the blanched almonds so that you have pieces of varying sizes. Add these, along with the pumpkin seeds to the rice salad.
Finely chop the red chili. De-seed it if you prefer a milder flavour, or leave the seeds in if you prefer a bit more kick! Add this to the salad.
Roughly chop the coriander (cilantro) and add the majority to the bowl, but leave a small portion to one side for use at the end. Give the whole salad a thorough stir so that all the ingredients are evenly distributed.
Now make the dressing. Using a glass jar or some other container that has a good tight lid; pour in 3 tablespoons of olive oil. Add the juice of 1 lime and half an orange. This can either be squeezed by hand directly into the jar or extracted using a citrus juicer. Add salt and pepper and then tightly screw on the lid. Give the jar a really good shake to combine the ingredients.
Add 4 tablespoons of dressing to the rice salad and give it a really good stir so that the dressing goes throughout the salad.  Top with the remaining coriander (cilantro) and stir.
Optional - if you wish to add fried halloumi or cooked chicken, do so just before you serve the salad. This could be added to the whole bowl or just to one person's portion. Add 50-60g per person.

This rice salad recipe is very versatile and can be kept in the fridge for 2-3 days, however it is best served on the day of preparation. Any left over dressing can be stored in the fridge for up to a week. Make sure  that you shake it well before use.