Stuffed Pepper Recipe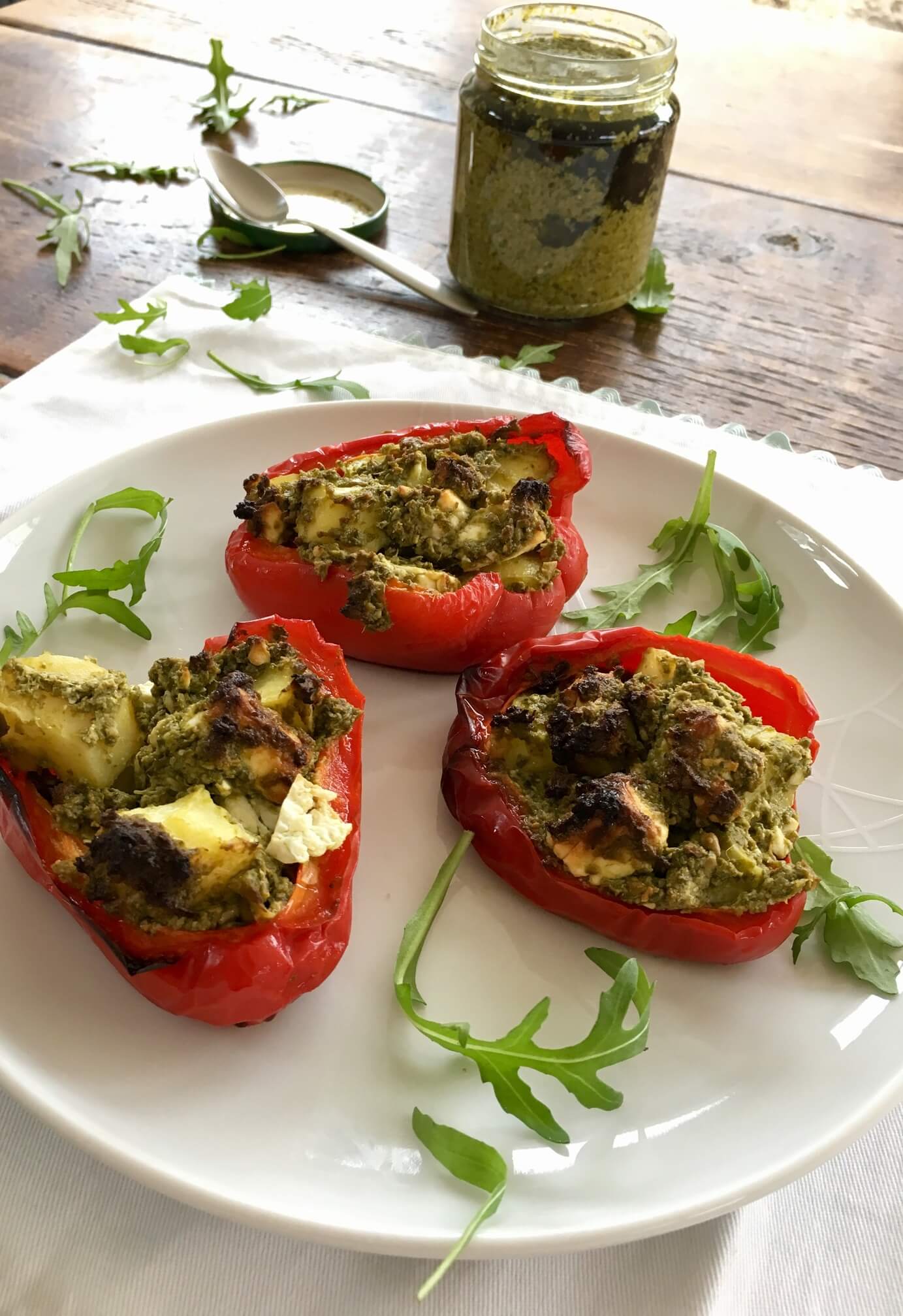 This stuffed pepper recipe is always a winner! The sweet roasted pepper works really well with the tangy feta and the flavoursome pesto.
It is a really good stand alone dish - it's great to serve as the vegetarian option if you have a mixed group of meat eaters and vegetarians, as it works well with a variety of side dishes that you might be serving with the meat option.
It is a filling dish in it's own right, thanks to the potatoes - simply serve with a salad, or if you are looking for something more substantial, try serving it with a ciabatta or some garlic bread to complete the meal.

Serves 4
Preparation time: 20 minutes
Cooking time: 40 minutes

---
Ingredients for Stuffed Pepper Recipe:
4 Red Peppers - look for a good sized pepper with a firm skin
225g / 1 cup New Potatoes
4 Generous Tablespoons Pesto (Good quality shop bought is fine!)
200g / 1.5 cups Feta Cheese
12 Green Olives (drained if originating from a jar)
1 Tablespoon Olive Oil

---
Equipment Needed:
Baking sheet - Lined with foil if your baking tray is not non-stick
Medium Sized Saucepan
Colander
Mixing Bowl
Chopping Board and Sharp Knife
Pastry Brush

---
Method:
Warm a saucepan and half fill it with boiling water. Add the potatoes and boil them for 12 minutes. Don't worry, they won't be fully cooked at this stage.
Preheat oven to 200 oC / Gas Mark 6 / 395 oF

Cut each pepper in half lengthwise and scoop out the seeds and pith. Brush a little oil on the outside of each pepper with the pastry brush and lay them face up on the baking tray.
Once the time is up, drain the potatoes and leave to cool for a couple of minutes.
Meanwhile, cut the feta cheese into pieces approximately 2cm long and place them in the mixing bowl. Chop the olives in half and add to the bowl along with the pesto.
Once the potatoes have cooled a little (they don't have to be cold, just cool enough to handle) cut the potatoes into pieces a little larger than the feta (aim for about 3 to 4 cm) and add them to mixing bowl. Give it a good stir so that everything is covered in pesto.
Spoon the combined mixture into the pepper halves.
Place in oven and cook for 40 minutes. The tops will go brown and the edges of the peppers might blacken - don't panic - this just adds to the sweetness of the peppers.
Enjoy!