Pesto Pasta Recipe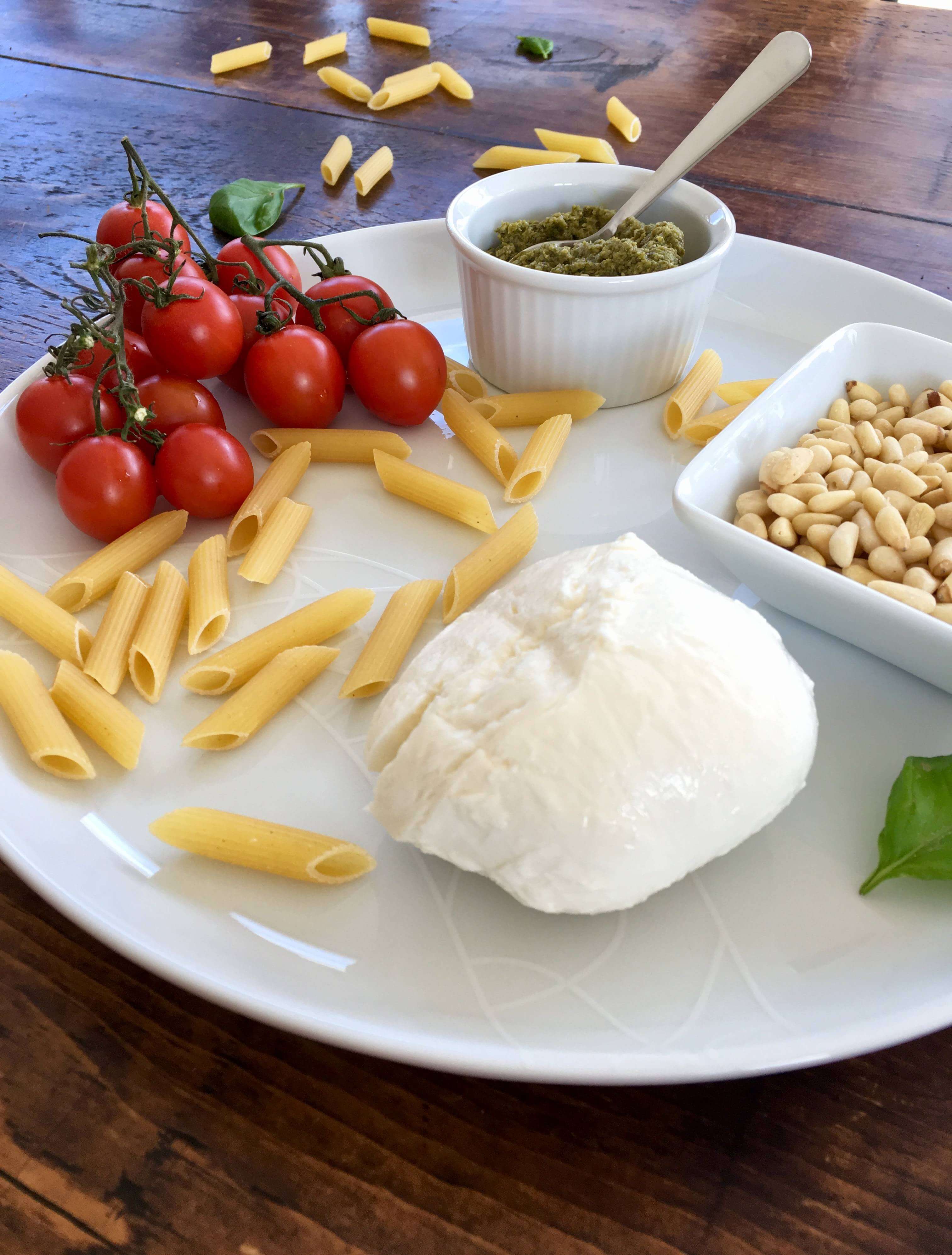 This is a fantastic recipe to reach for when you are in a hurry. This pesto pasta recipe never fails to please. It's quick to make and is sure to fill a hungry tummy. The classic pesto pasta standby is bumped up with tomatoes, pine nuts and mozzarella to give a nod to all the flavours from Italy and to create a flavoursome, fast and satisfying dish.
Serves: 2
Preparation time: Minimal
Cooking time: 15 minutes

---
Ingredients for Pesto Pasta Recipe:
200g (1 cup) Penne Pasta (dried rather than fresh)
3 Tablespoons Pine Nuts
20 Cherry Tomatoes (Try to get the ripest, sweetest variety that you can)
5 - 6 Tablespoons Pesto (Shop bought is absolutely fine)
150g ball Mozzarella
Handful Fresh Basil Leaves
Parmesan according to taste

---
Equipment needed:
Chopping Board and Sharp Knife
Large Saucepan
Colander
Small Frying Pan (preferably non stick)
1 Sheet Kitchen Towel

Grater

---
Method:
Bring a large saucepan of salted water to the boil. Add the pasta and cook according to the instructions on the packet.
Meanwhile, drain the mozzarella ball and place on a sheet of kitchen towel to absorb any remaining liquid.
Heat the small frying pan and add the pine nuts. These are going to be "dry fried" which means that you don't need to use any oil. Keep an eye on the pine nuts and shake the pan every 10 seconds or so to avoid them burning. Once they start to turn golden, remove the pan from the heat. This should only take about 1 minute.

Chop each tomato in half and cut the mozzarella into small pieces, approximately 2cm squared in size.
Once the pasta is cooked to the 'al dente' stage, drain the pasta, leave in the colander and place to one side.
Hopefully, the contents of your jar of pesto will have slightly separated and you should have a small pool of basil oil on the top of your pesto. Place your pasta saucepan back onto the heat and pour a little of this oil into the pan. (Don't worry if you don't have any oil from your jar of pesto, you can use a teaspoon of olive oil instead)
Tip the tomatoes into the saucepan and heat through until they just start to go soft around the edges (this will probably take about 2 minutes)
Add the pasta back to the saucepan and stir through the pesto. Add the toasted pine nuts and the mozzarella and give it a real good stir and then leave it for 1 minute to allow the mozzarella cheese to melt a little.
Serve in large pasta bowls. Grate parmesan over the top (as much or as little as is your personal preference) and shred a few basil leaves for garnish.
This pesto pasta recipe is bound to become your new "go to" recipe!