Thai Curry Recipe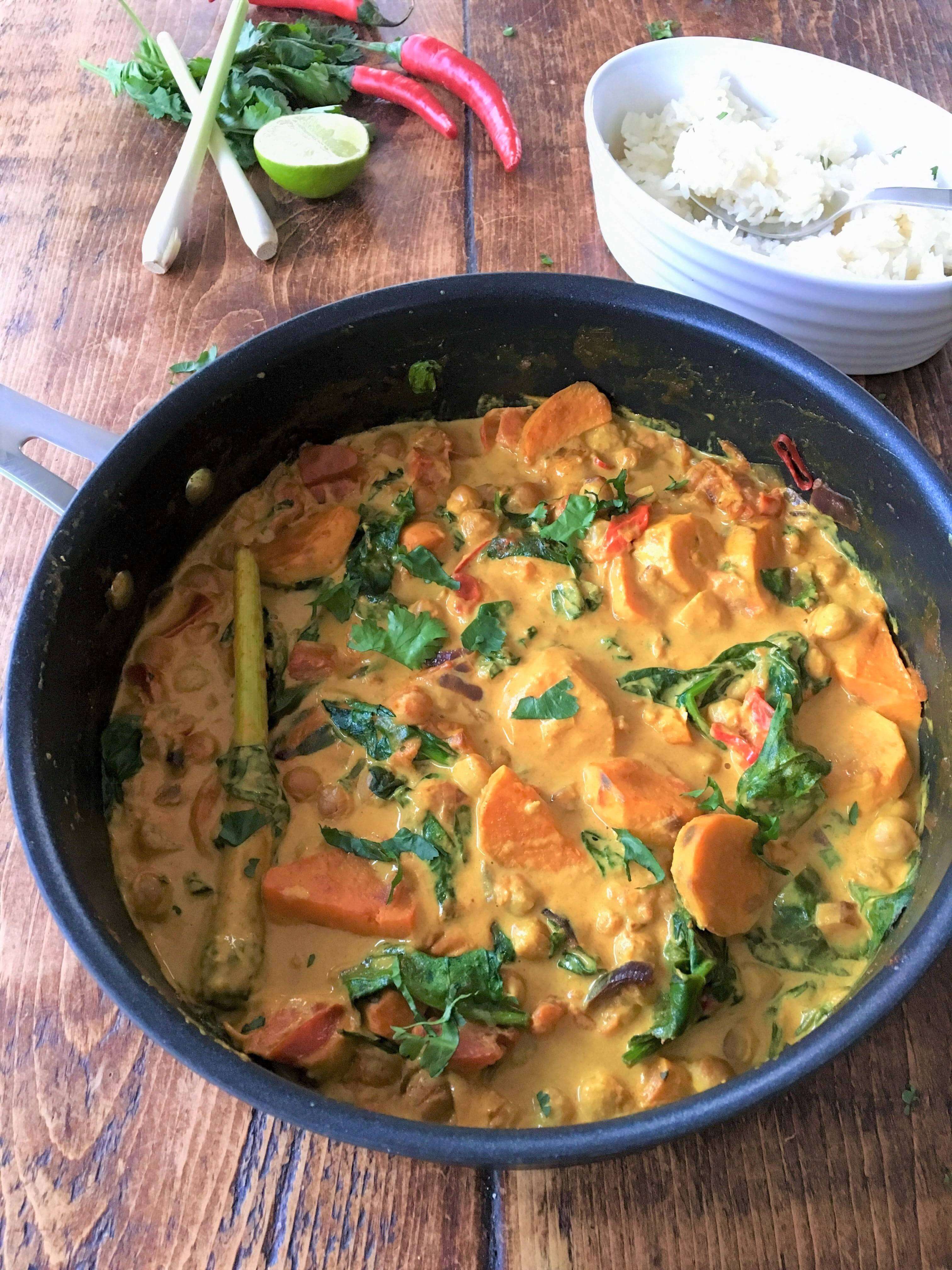 This Thai Curry Recipe smells and tastes incredible! The typical ingredients from Thailand of lemongrass, chili, ginger and lime combine to give a fantastic aromatic fragrance. This vegan dish is crammed with superfoods - nutritious spinach, protein packed chick peas and delicious, vitamin rich sweet potatoes - which are all coated in a creamy coconut based sauce to give a delicious and satisfying meal.

Serves 4
Preparation time: 10 minutes
Cooking time: 25 minutes

---
Ingredients for Thai Curry Recipe:
1 Red Onion
2 Cloves Garlic (or 2 teaspoons pre-prepared garlic puree)
1 Red Chilli
3cm Fresh Ginger
225g (1.5 cups) Sweet Potatoes
3 Ripe Tomatoes
110g (half cup) Baby Spinach Leaves

1 x 400g / 14 oz Can Chick Peas
1 Lemongrass Stalk
1 teaspoon Ground Coriander (Also known as Cilantro)
1 teaspoon Cumin
2 teaspoons Paprika
2 teaspoons Tumeric
1 teaspoon Garam Masala
1 x 400g / 14 oz Can Coconut Milk
 1/2 Lime
1 Tablespoon Olive Oil

1 Handful Fresh Coriander (Also known as Cilantro) 

---
Equipment Needed:
Large Sauté Pan / Deep Frying Pan
Chopping Board and Sharp Knife
Colander

Can Opener
Vegetable Peeler

Measuring Spoons
Citrus Juicer (Optional)

---
Method:
Finely chop the onion and chilli. Peel the ginger and slice thinly. If using fresh garlic cloves, peel and crush them.
Heat the oil in the pan on a medium heat. Add the onion, chilli, garlic and ginger to the pan and stir well. Cook for approximately 5 minutes until the onions are soft.
Add the dried spices and cook for a further minute. Take care when using the turmeric as the lovely yellow colour can stain if it is spilt on clothing or work surfaces!
Chop the tomatoes into small pieces and add them to the pan. Stir again and leave to cook for an extra 2 minutes.
Meanwhile, drain the chick peas in the colander and rinse well. Peel the sweet potatoes and cut into 3cm pieces. Once the tomatoes have had their 2 minutes in the pan, add the chickpeas and sweet potatoes and stir well so that everything is coated in the spicy mix.
Open the canned coconut milk and add to the pan. Chop the bottom cm off the lemongrass stalk and add this to the curry. Bring it to the boil and then turn down and leave to simmer for 15 minutes or until the sweet potatoes are tender when tested with a knife.
Whilst the curry is cooking, roughly chop the fresh coriander (cilantro).

Squeeze the juice from the lime (either by hand or using a citrus juicer) into the curry. Add the spinach leaves and stir until they are wilted.  Garnish with the freshly chopped coriander (cilantro)
This Thai Curry Recipe is best served over a bed of rice and consider offering extra wedges of lime on the side for people to squeeze over their dish.