Vegetarian Burger Recipe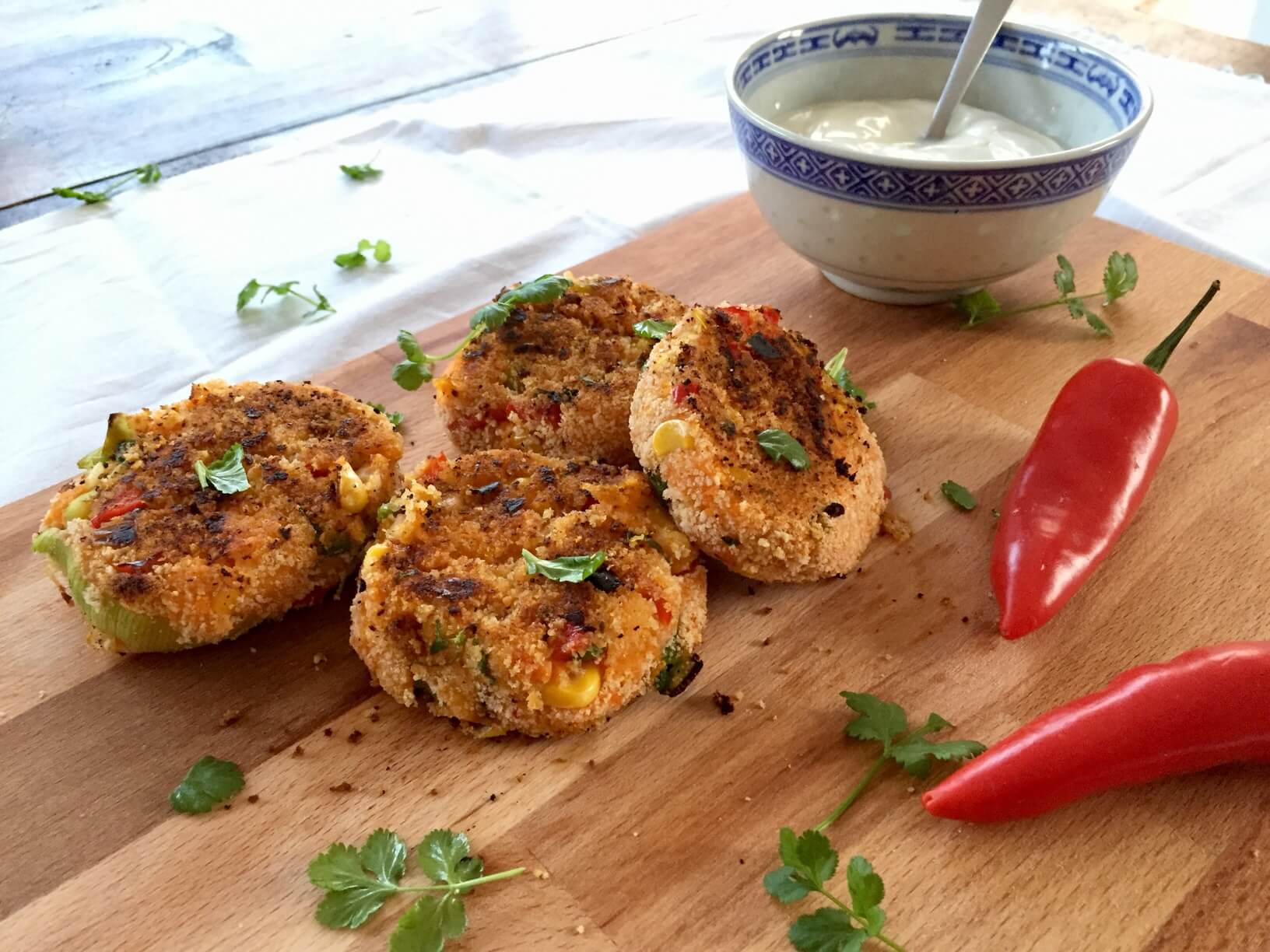 Looking for a tasty vegetarian burger recipe? Gone are the days when vegetarians are stuck with chewy, meat flavoured burger substitutes. Here is a veggie burger recipe designed to be healthy and full of flavour. These vegan burgers are packed with nourishing vegetables and pulses.

First up - Sweet Potato! - full of vitamin C which is great for boosting our body's immune system as well as other benefits for healthy cell growth, for teeth and gums, and for our nervous system.
Next there's chickpeas, full of fibre and protein - essential in a vegetarian diet.
Then there's a rainbow of colour with the vegetables - sweetcorn, peppers, leeks and coriander (cilantro) and some zingy seasoning with chillies, fresh lime juice and cumin.
There is a minimal amount of heart friendly olive oil used in this recipe (and even less if you choose to oven bake it), so this vegetarian burger recipe is a great choice for a delicious, healthy and filling meal.  

Serves 2
Preparation time: 20 minutes
Cooking time: 30 minutes (50 minutes if oven cooking)

---
Ingredients for Vegetarian Burger Recipe:
2 Medium sized Sweet Potatoes
1 Small Leek
1/2 large Red Pepper
75g (half cup) Sweetcorn - Frozen or Canned
100g (half cup) canned Chick Peas
Juice of Half Lime
1 Red Chilli Pepper - select a level of heat according to your personal preference
1 Teaspoon Cumin
Large Handful Fresh Coriander (Cilantro)
100g (1 cup) Dried Breadcrumbs
3 Tablespoons Olive Oil (or just 1 Tablespoon if oven cooking)
Low Fat Natural Yoghurt to serve (use a vegan alternative if required)

---
Equipment Needed:
Saucepan
Potato Peeler

Potato Masher
Colander
Frying Pan
Non stick baking tray (if oven cooking)

Chopping Board and Sharp Knife
Measuring Spoons

Large Mixing Bowl
Heatproof Spatula

---
Method:
Peel the sweet potatoes, cut off and discard the end sections. Chop into 3-4 cm chunks
Put a saucepan of salted water on to boil and then add the sweet potatoes - boil for 15 minutes or until a sharp knife can easily pass through the potatoes.

Drain in a colander and add the pieces to the mixing bowl. Mash with the potato masher until reasonably smooth. Don't worry about small lumps.
Rinse the colander, then drain and rinse the tinned chickpeas.
Roughly chop the coriander (cilantro) leaves and set aside.

Remove the outer layers and ends of the leek, then slice thinly. Deseed the red pepper and the chilli peppers and chop both into small pieces.

Heat 1 tablespoon of olive oil in the frying pan. Stir fry the chopped vegetables for 5 minutes or until starting to soften but still with a little bite. Add the cumin, mix well and then fry for a further 1 minute.
Add the contents of the frying pan to the sweet potato mash.
Stir in the chick peas, lime juice and chopped coriander (cilantro).
Mix well and leave to cool for 10 minutes.
Pour the breadcumbs onto a plate.

Take a large spoonful of the mixture and roll it into a ball in your hands. Shape into a patty / burger. Then roll it in the breadcrumbs so that it is coated on all sides and place on a clean plate.
Repeat until all the mixture is used up. This will yield approximately 8 burgers. It is likely that you will have some breadcrumbs left over at the end - discard these.
Wipe the frying pan with a piece of kitchen paper and then place it back on the heat. Add 2 tablespoons olive oil and turn the heat to medium.
Fry the burgers in the pan for approximately 4 minutes on each side, turning every 2 minutes or so to prevent the burgers from burning. Depending on the size of your frying pan, you may need to fry these in 2 batches.
If you would prefer to oven bake these burgers (which will taste just as delicious, but slightly less crispy on the outside) pre heat the oven to 200 0 C / 390 o F / Gas mark 6. Place the burgers on a non stick baking tray and cook for 30 minutes.

Serve with some natural yoghurt and a spinach side salad. No need to add a burger bun as these are perfectly filling as they are.
Enjoy making and eating this vegetarian burger recipe!